Company Range
Planned Preventative Maintenance
Engineering Maintenance
Automotive & Transport
Industrial Cleaning
Building & Construction
Food Processing & Catering
Floor Care
Janitorial
Biologicals
Washroom Hygiene
Ozone Friendly Aerosols
Paints & Surface Coatings
Graffiti Removal
Spillage Control
Chemical Storage Cabinets
Paper Products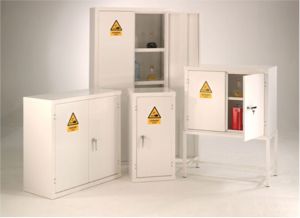 Storage Cabinets & Spillage Kits
Manufactured to our own specifications, Kemico offers its clients a complete range of storage cabinets, designed to help them comply with the complex laws governing segregation and storage of chemicals. These robustly constructed cabinets have been designed for the storage of; Flammables, Acid / Alkalis, Irritant / Harmful and Environmentally friendly products.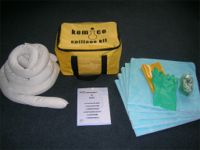 To compliment this range, Kemico has introduced a fast response, portable, emergency Spillage Kit which should be held in all areas where liquid product is being used or stored. Each kit is capable of a theoretical absorbent capacity of 30 litres, more than adequate for the average workshop spillage. Housed in an attractive bright yellow, rot proof nylon kit bag, it comes provided with strong black webbing handles which enable it to be hung, if necessary, close to a potential trouble spot.
Full refills are available.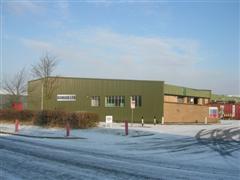 SOME SUPERB COMPANY PRODUCTS
Kemidigestor Bio: An enzyme charged degreaser designed for use either manually or through a dosing pump to keep grease traps clear of fat build-up. For use in office blocks, restaurants, cafes, refuse areas, etc.
Kemi TFR Super: A superb, caustic free, effective vehicle cleaner with a synergistic blend of surfactants, organic complexing agents and corrosion inhibitors. Removes all traffic dirt and stains quickly and effectively. Leaves paintwork shiny and glass sparkling.
Kemi Auto FC: A low foam alkaline detergent for use in automatic scrubber / floor drying machines, steam cleaners & pressure washers, containing powerful grease dissolving properties.
Kemiscale FPS Blue: A highly effective pine fragranced scale and deposit remover. For use in urinals, small bore pipework, sinks, drains, etc. Consists of an aqueous solution of phosphoric acid, wetting agents and inhibitors, which prevent attack on stainless steel, steel, iron, cast iron, aluminium, chrome and copper alloys.
Kemico Bio Range
With the protection of the environment in which we all live utmost in our minds, Kemico has introduced a range of Bio products. These products are advanced biological formulations containing bacteria and enzymes that are totally green and completely non-hazardous. These products liquefy and digest fats, proteins, cellulose and carbohydrates which in turn eliminates bad odours, reduces blockages and are ecologically friendly thus eliminating the need to use hazardous chemicals.
Kemisonic: A concentrated and highly effective biodegradable all purpose cleaner and sanitiser. Contains a quaternary ammonium compound, which acts on bacteria during the cleaning process.
Paints, Seals & Specialised Surface Coatings: Kemico produces a comprehensive range of products, most of which are available in BS4800 & RAL colour ranges. New to this range is Kemi Multi Surface Paint. Water based it resists flaking or peeling because of its outstanding flexibility. It will go straight over most other paints and varnishes. Does not require a primer (except on ferrous metals or where staining may occur) or undercoat. Suitable for both internal and external use.
Ozone Friendly Aerosols: A full range of every day and specialised aerosols for use within the office or in the industrial workshop.
Paper: A full range of quality paper products consisting of hand wipes, barrel wipes, forecourt rolls and a comprehensive range of toilet tissues
Kemico Limited is a UK based manufacturer, stockist and supplier of Industrial cleaning and Maintenance products.
The company has an extensive range with over 300 products, evolved from knowledge of supplying a wide diversity of industry and of solving customer related problems put to our highly skilled team of representatives and chemists who each have many years of experience within our field of business.
This highly professional team, whose directors and senior management have over 125 years combined experience, are constantly being trained in new products and innovative ideas to keep one step ahead of our customer needs.
Kemico has a highly respectable and impressive client base that includes many multi-national blue chip companies, governmental departments and local councils. All our customers have access to our extensive laboratory facilities via our technical support team, which is always readily available and only a telephone call away.
Our in-depth knowledge of our customer needs within the chemical industry, supported by a well-equipped laboratory staffed by trained technologists, will always keep Kemico in the forefront of our industry. Continuous product improvement and a flow of new innovations from our Research and Development department ensure that customers' requirements are always fulfilled.
Kemico's range includes speciality maintenance, biologically formulated concentrates, cleaning, janitorial, catering and hygiene chemicals, speciality paints and seals, aerosols, paper goods and many other useful auxiliary items.
Kemico has always recognised its responsibility with regard to safety and the environment. We pursue positive policies on safety in the workplace and the control and minimisation of pollution and waste through a systematic approach to continuous product development using the most up-to-date and environmentally acceptable raw materials, process control and extensive training at all levels.
Kemico's Health & Safety department continually monitor, evaluate and action decisions that relate to products and user safety. The traditional safety rules and legislation on the carriage, packaging and labelling of goods (CHIP), current EC legislation and most importantly, the Control of Substances Hazardous to Health (COSHH) are all strictly adhered to. As part of our commitment to the industry, the foregoing information is available to all our customers upon request.
Reliability is the very essence of Kemico's philosophy. Every product manufactured and distributed by us will provide our customers with a technically first-class product which can be relied upon to be as good as and in most cases, better than any comparable product currently on the market.
This reliability also extends to our delivery network. With our well equipped fleet and fully trained and certificated drivers, we offer an outstanding delivery service, second to none within the industry.
Kemico's management structure will always remain dedicated to its customers by being professional, friendly, approachable and adaptable to whatever situation may arise.
A consultancy service is available to advise customers on their requirements.